If you are looking for Happy Homeowners, the real estate blog, click here. In November, 2016, this website changed direction. My real estate clients can find out about that on my business Facebook page or website  or business blog.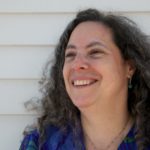 This website is now focused on the community we want in the greater Boston area. What we need to know. What we need to do to keep our community safe and sound and strong. We are stronger together.
Interfaith action: I am a founding member of the Daughters of Abraham. This is a group for Muslim, Jewish, and Christian women who meet monthly to discuss books and get to know one another. We started with one group in 2002, and now have nearly 500 women participating throughout the country. We were covered by PBS early on, here's the video.
Leadership and teaching philosophy: "Fortune favors the prepared mind," said Louis Pasteur. I agree. I have learned from experience that gathering information and making preparatory,  non-critical decisions is critical for making good decisions. Those that are prepared will be ready to act with more efficiency and with more safely than those who have to "wing it" when the stakes are high. This is true for people buying a house; it is also true for people of good conscience who are considering how to stand up for their vision of our country.
Writing: I wrote for Boston.com Real Estate Now for five years. I came to that position because I was a regular source of local journalists about real estate. They appreciated that I told the truth, told it clearly, and frequently, told it with good humor. In November of 2012, I left Boston.com because it was a distraction from what was more important to me: my direct work with house buyers and the creation of a book for people like my clients.  I am now writing on my own blog and a blog for my company. You can find the best of both on our FaceBook page.
Rona, the day job:
I run a small real estate exclusive buyer's agency in Cambridge. Exclusive buyer's agents are not financially attached to any house on the market. We do not divide our focus between getting the best house at the lowest price and also getting the highest price for a seller of any house. I do this because it feels right. I enjoy having a clear focus: to find the right house and get the best deal on it. I have filled my office with like-minded people who work to help buyers make sound decisions and get the lowest price and best terms possible on a house that truly suits them.
Buyer agency suits me because it is a model high on counseling and low on sales. That fit in well with my prior training and experience as a teacher and a counselor. My Master's degree in counseling and special needs teaching gives me a background in "people skills" as well as specialized knowledge about deaf, blind, and deaf-blind people, and people who use wheelchairs. My bachelor's degree in English helped me hone my communication and writing skills and to organize my thoughts and plans. I share these skills with my clients and readers.