Can't sell because you can't buy?
About two years ago, The Wall Street Journal celebrated the end of the housing recession. Of course, I had an opinion on that. The big issue in the Boston area then, as it is now, is inventory.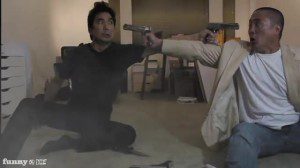 We have a stalemate about inventory here. These are the factors:
Empty-nesters are staying longer in their houses. This is a demographic and cultural shift. They are holding on to their houses, partly because of personal choices and partly because they cannot find right-sized housing to retire into. It is limiting the number of trade-up properties available for people seeking bigger properties.
Trade-up buyers cannot find the houses to move up into. Therefore, their condos are not available for the empty nesters to move into.
Investors flooded into the market early in 2013, trying to profit from the end of the recession and the comparatively low prices. Many were buying in cash. This furthered the inventory crunch and left the typical buyer at a disadvantage. They have added to the demand side of supply: demand.
See how this resembles a Mexican Standoff? Everyone is making it harder for themselves as well as everyone else.
As buyer's agents, we'd like you to sell! Because sellers have the upper hand in the current market, there are things you can do to make your transition easier.
Use your advantage to get good terms of sale. Because you have the upper hand, ask for enough time to find what you want to buy.
Arrange to buy without needing your current place to sell, if you can. In this market, most properties sell quickly.
Hire a listing agent that can really take care of your needs. Because the seller's side of the market is at an advantage, there are a lot of unskilled agents succeeding. Because we face listing agents every day, we know which ones have skills that will help you sell to your best advantage. The good agents will advise you on staging, security, as well as price.