Get outside, three times a week
Last week, I quoted a study which showed that spending some days in the wild, with no phones or tablets, increased problem-solving skills and creative thinking.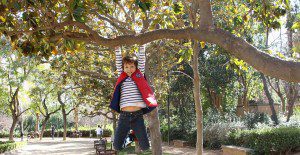 Today, closer to home. How is playing outdoors good for children's intellectual development? The prescription by environmentalist Dr. Scott Sampson for children is: 30 minutes of unstructured play, outdoors three times a week. This is a minimum. If we are going to live with our planet, children need to explore it on their own.
Although this article does not have any experimental data behind it, it is consistent with the trends noticed last week. Being outside inspires creative thinking and serves as an antidote to high-stimulus urban environments.
Do you get outdoors a few times a week? Can your children play their own, imaginative games, outdoors?