Just Mercy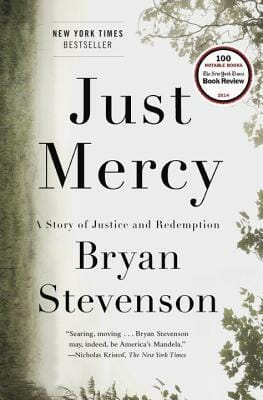 In May, 2018, I heard Bryan Stevenson speak at a commencement. It was only then that I picked up his book. Now the movie is out, so it's time to talk about him.
I looked at my review on Goodreads and decided that I hadn't said enough.
Bryan Stevenson is a lawyer, and so much more. When I heard him speak, he told the same story about his grandmother as he did at this Ted Talk.
Here is the outline of his talk:
Always do the right thing, even if it's the hard thing.
Do we have the right to kill convicts? He later talks about Germany having no death penalty.
African Americans dealt with terrorism from reconstruction until World War II.  When white people say 9/11 was the first terrorism in America, that is ignored.
His Equal Justice Initiative. What Rosa Parks said about it.
Our humanity depends on everyone's humanity. Each of us is more than the worst thing we've ever done.
The opposite of poverty is justice.
We judge the character of a society by the way that the poor and incarcerated are treated.
The society doesn't succeed unless everyone succeeds.
I haven't seen the movie, because I can't watch movies yet, after a concussion. From what I hear, it speaks to his points about justice, but is also a thriller of how the case against Walter McMillan was unraveled by Stevenson and his team.
Around the time that I heard Bryan Stevenson speak, the Legacy Museum  opened. It is on my list of places to go. As a white person, I have a lot to learn.
---
P.S. Consider connecting to me on Goodreads. I'd like to know what you are reading. But, buy your books someplace other than Amazon!