Roof collapse: Brown School in Somerville
All this winter, Somerville officials have been keeping an eye on the roof of the Brown School. This old building houses a favorite local elementary school here. The building, well, not so much a favorite.
A month ago, the City engineers knew there was trouble. Mayor Joe and Superintendent Pierantozzi did the right thing and cancelled school until there was assurance that the structure was safe.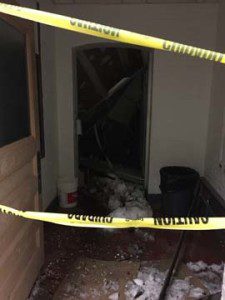 School was cancelled again for today. I started seeing parents posting that there was a "roof collapse day" called for their child(ren)'s school. Although it seemed like a joke, no joke.
Around 10 PM last night (March 10), the roof lost its battle with this winter's snow, ice, and water. The roof came down. There is debris in the girls' bathroom. The extent of the damage will take some time to sort out. So will the extent of the cost and trouble that our failed infrastructure is going to cause.
Thank you @pbockelman on Twitter for reposting to Facebook today. Photo credit myfoxboston.com