Seniors and our stake in climate change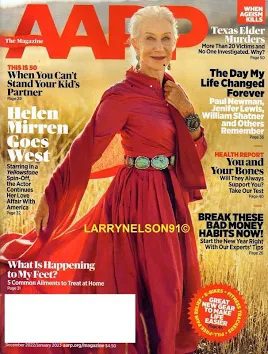 The most popular magazine in the country has 38 million readers. You may be able to guess what it is.
The mission of the organization who runs this magazine:
"___ is dedicated to enhancing the quality of life for all as we age. We lead positive social change and deliver value to members through advocacy, service, and information."
The organization that runs this magazine agrees "all levels of government should work to prevent and limit the effects of climate change."
Would it help if the magazine spread the word about the threat due to climate change? Could the magazine inform its readership about ways to decrease their energy use to meet climate goals?
You have probably already guessed that AARP (American Association of Retired People) is the organization.
The petition
Elders Climate Action is circulating this petition. I signed it. If you are a member of AARP, I encourage you to sign it, too.
Did you know AARP agrees "all levels of government should work to prevent and limit the effects of climate change"? That's right. But have you seen or heard anything from AARP about climate change and its impact on its members, us elders? Nope. Nothing.
Think of what it would mean if AARP magazine – with the largest circulation in the country – included information on the impact of climate change on its members, their families, and our future? Think of AARP's ability – with 38 million voting members – to get the word out on the climate emergency so our fellow elders can take action to protect their own and their loved ones' health and future.
Whether AARP steps up on climate change depends on how important the issue is to AARP's members. ECA has joined other organizations to help put AARP on notice that its members care about climate change.
So, if you are an AARP member, please click on the link and sign the petition asking AARP's leadership to inform its members about the threats they face in the climate crisis and to lead them in taking action. And then please forward the link to your friends, family and other elders so their voices are heard.
Me and AARP
My first experience of AARP was seeing their magazine in waiting rooms. At the time it was a slick magazine, looking like People or Time; it was then called Modern Maturity.
I got an invitation to join AARP when I was 29. Ooops! Then I got another one around the time when I was eligible for "membership" at 50 years old. I eventually joined at a point when my car insurance agent told me that their car insurance had the best rates for my household.
AARP. It's an insurance company that publishes magazines to draw members. The members then get group discounts on some things, some age-relevant information, and lots of ads for stuff old folk might buy. (Big-button phones, walk-in shower retrofits, fall-and-can't-get-up buttons). They are asked to sign petitions and pay attention to issues that involve seniors and their money, like Medicare and social security. They get the AARP Bulletin, the newsprint publication that comes out monthly. There is also a slicker magazine, The Magazine AARP. Helen Mirren was on this month's cover. The articles are similar to the AARP Bulletin, except with more celebrity stories and a generally higher-income focus.
What is AARP sending its members?
The Magazine AARP had mentions of electric cars and e-bikes. They advise that single-use plastic bags are expensive and bad for the environment. These mentions do not stress the importance to making changes to help avoid more natural disasters. There were articles about money habits, bone health, decluttering, and getting ready for winter. Along with that was news about stars like Paul Newman, Jennifer Lewis, William Shatner, and Jude Law – all of whom are over 50. The true news: there has been a series of murders of elders in Texas.
The AARP Bulletin for December 2022 had an article about upper body exercise that seemed age-appropriate. There was something about Medicare in there, which makes sense, since it is enrollment time. There was also an article titled "Where's that document?" which is relevant to me, because I am about to undertake a file overhaul. True news: there was an article about rising rental prices and its effect on seniors.
In the AARP Bulletin, there was a single paragraph — in a question-and-answer section –"To solar or not to solar". The answer was solar is worth it, if you have a roof that gets four hours of full sun per day. If you don't, you can buy your electricity from a community solar source. What's missing from this is the why would I want this? 
Why climate change matters to seniors. (AARP is missing the boat)
In this same question-and-answer section, there was a question "My home insurance rates just jumped because they say my area's weather risks have increased". To which, the answer was, "more frequent natural disasters, inflation and rising reconstruction costs are all putting pressure on home insurers." This is followed by ways to make your house more disaster-resistant to gain insurance discounts.
AARP could easily be reporting on the effects of flood and fire on the health, safety, and home economy of elder Americans. These are all climate change issues.
There were 15 natural disasters in 2022 (as of October 11) which cost more than $1 billion in repairs.  "More than 4 in 10 Americans live in a county that was struck by climate-related extreme weather last year, according to a new Washington Post analysis of federal disaster declarations, and more than 80 percent experienced a heat wave." [source] You can be sure that many of the affected people are among the membership of AARP.
Climate change is not just relevant to members of AARP, it may be disrupting their lives in big ways. Even if seniors have not been directly affected, the idea that seniors only care about themselves (and their grandchildren) is pretty insulting. Everyone needs to be paying attention, as the earth changes around us.
The large generation of elder Americans have a collective power. They can be part of the climate action solution, and AARP can provide information to make that happen.