The ice dams cometh again?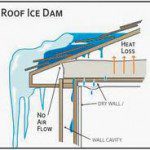 There are some good things that came out of last year's misery with ice dams.
Increased Prevention:
Most years, I start nudging my happy homeowners to consider raking and shoveling the flat roofs only after about a foot of snow. Until last year, I got resistance to taking on this task.
Now, I notice a higher level of caution about roof snow build up. All over my Facebook feed, I see people considering raking their roof or shoveling their flat roof after the February 5th snow. That was not a huge snowfall, but homeowners are now taking this serious. I even saw a raked roof at an empty open house on February 6.
Fun with repairs:
One client turned last year's lemons into lemonade. They had a huge icicle that made its way behind the flashing in the sun room and flooded the basement. The damage led to a lot of wall opening–which lead to two nicer rooms at the back of his house. As an extra bonus, they put in nifty automatic shades. This ended years of reaching over couches to open and close the blinds in the sun room. He made this video to show off their new toy: