When I took classes for my green leadership certificate, the instructors were hot on insulated drapes and shades. Every time I published on the topic, one of my clients dissed it, loudly.
Since one of the joys of my job is having clients as smart as I am, I am always willing to learn from them. This client has brought his energy-hog house in Lincoln into the 21st century and cut his fuel costs in half. Recently, he got a quality infrared thermal camera and went to town proving his points.
He says that thermal shades don't do diddly-squat. His camera confirms that. I couldn't tell which window had the shade. (it's the bottom one.)
I still believe there is a subjective difference when regular thermal shades are used. I think the difference comes from the cold draft staying nearer to the window than it would if there were no barrier there. This will make it more comfortable for people to keep their thermostat a little lower than they would if the window drafts had nothing impeding them. But, his pictures showed the bright yellow heat coming out of those shaded windows. Truth is told.
If you want to use thermal shades, the best you are going to get is about an R-4 rating, according to Green Building Advisor.  These shades are pricey.
R rating is the measure of resistance to heat transfer; the higher, the better. A typical wall is insulated with exterior siding, hopefully some foil and foam insulation, some plywood, then studs and wallboard, and hopefully insulation between the studs. An uninsulated wall would have an R value of about 4, depending on what the outside siding is and how thick the plywood and sheet-rock or plaster walls are. Adding insulation to walls increase the R value by 5-9 R, depending on how thick the wall cavity is and what you fill it with.
Windows come in between 1-4 R ratings. The ones with the bigger air space between the multiple panes do the best job. Insulation around the window frame matters, too; poor installation creates drafts. Because windows are the weak point in a well-insulated house, a lot of attention and money is spent there.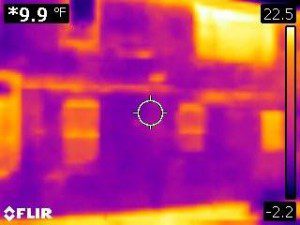 According to my energy-expert client, you would be much better off insulating the perimeter of your basement than replacing the picture window. Replacing a big picture window will cost $2-4,000. Basement sealing is relatively short money.
The good news is the Mass Save does basement sealing when it insulated walls. That is a no-brainer for any homeowner to get the walls insulated and the basement sealed with programs from Mass Save.
A picture is worth a thousand words, so this is the end of a 3,000-word blog. Stay warm and make some changes before next winter.